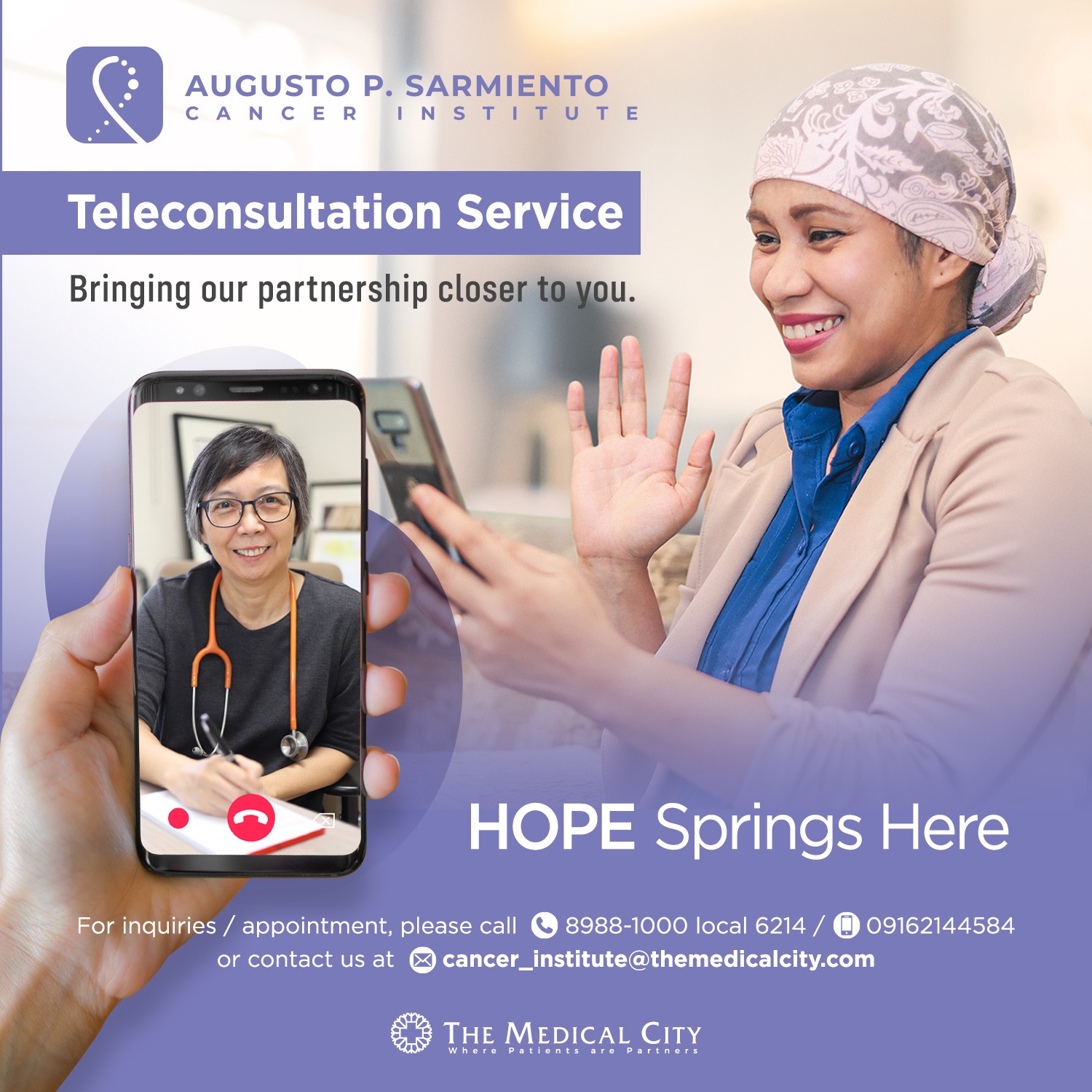 Accessing convenient, specialized and quality healthcare services with your healthcare team have never been this easy. By making it easier to stay connected, it allows patients to report side effects, adhere to their treatment, receive care and seek consults with experts on their particular cancer, all hopefully leading to better outcomes.
For further inquiries or to schedule an appointment online, please call The Medical City Augusto P. Sarmiento Cancer Institute (APSCI) at 8988-1000 local 6214 or 09162144584 or contact us at cancer_institute@themedicalcity.com.
The Medical City's Augusto P. Sarmiento Cancer Institute (APSCI) is located on the 8th floor, Nursing Tower B.
Trunkline: 8988-1000/8988-7000 ext. 6214
Email: cancer_institute@themedicalcity.com@themedicalcity.com
SERVICES OPERATING HOURS LOCAL TELEPHONE NOS.
Cancer Coordinating Center (Consultation, Multidisciplinary Team Meeting, Care Coordination, Telemedicine): Mon-Fri (8:00am-5:00pm)
Radiation Oncology: Mon-Fri (7:00am-3:00pm)
Colorectal Clinic (Consultation, Telemedicine): Mon-Fri (9:00am-5:00pm)
Multispecialty Cancer Clinic: Mon – Friday, 8am – 5pm local 6214
Breast Center (Mammogram and Breast Ultrasound): Mon – Sat, 8am – 4pm local 6527 or 6528
Chemotherapy Unit: Mon – Fri, 8am – 5pm local 6256 or 6652
Head and Neck: Mon – Sat, 8am – 5pm local 6250 or 6251
Center for Liver Disease Management and Transplantation (Consultation, Multidisciplinary Team Meeting, Fibroscan, Telemedicine): Mon – Fri, 8am – 5pm local 6506 or 6507
Palliative Care: Mon - 1pm – 5pm local 6214
Pain Management Clinic: Mon – Fri, 8am – 4pm (OPD) local 6453; Mon 6am – Sat 10pm (In-patient)