To our Valued Partners:
We at The Medical City hope you and your loved ones are staying safe and well.
As we move forward to the New Normal, we continue to do our best to look after your safety. We are one with the world in taking mitigation measures aiming to slow down the spread of COVID-19. Precautionary measures have been put in place in our hospital, applying best knowledge to prevent or at least to reduce impact of the pandemic to you and our healthcare providers.
Today and always, we are privileged and committed to deliver quality patient care and experience that is why we have added safety measures to protect and ensure you of a healthy, safe, and clean environment on your next visit.
We follow best practices and new norm guidelines from the health authority, such as:
Thermal Scanning, Hand and Footwear Sanitation in Entry Points
Managed Physical Distancing
Transparent Counter Barriers
Wearing of Appropriate Personal Protective Equipment
Rigorous cleaning and disinfection of the whole facility including contact surfaces
The Medical City, under the New Normal, is also implementing the following:
TMC One Complex, Two Hospital Systems
"TMC One Complex, Two Hospital Systems" refers to The Medical City's new normal hospital operation that provides patients with clear-cut processes and division for COVID-19 patients in isolated areas and separate safe access for non-COVID-19 patients who need consults, diagnostic tests, intervention, and management of their diseases. Exclusive pathways have been identified from the moment a patient enters the hospital to his planned appointment or destination.
Under this set-up, you may expect the following:
There's a zoning system that separates the facilities for COVID-19 and non-COVID-19 patients. Green Zone means safe areas for patients/visitors. These are common areas of the hospital, service units, clinics that are accessible to patients. Yellow Zone means isolated areas for patients who may be suspected or probable COVID-19 patients.
All TMC patients and guests will go through screening and assessment at the Nursing Building (7:00am to 10:00pm) and Medical Arts Tower designated entrances (9:00am to 3:00pm). Patients/visitors are advised to arrive at TMC at least 15-minutes prior to their schedule for the screening.
Based on assessment, Non- COVID-19 guests will be provided green wrist tag and shall follow green zone directional signs while suspected COVID-19 guests shall follow yellow zone directional signs leading to Main Emergency Department.
Save time in line with our online screening tool. We've created a simple tool for online screening that serves as a COVID-19 assessment form approved by both the DOH and TMC. The goal of this tool is to increase safety for patients, visitors, and healthcare workers alike as well as make it easier and quicker to enter TMC. You may access it here: themedicalcity.com/onlinescreeningtool
You may still be subjected to a health assessment in the Triage area depending on the result of your initial (online) screening.
Other reminders to patients/visitors before your visit
Everyone must bring their own face mask and wear them while they are within the hospital premises. We allow surgical, ear loop, or do-it-yourself masks, as well as other facial features protective shielding such as goggles, and face shields. Infants up to 2 years old are exempted.
We encourage everyone to bring their own hand and surface sanitizers preferably with maximum content of 70% alcohol. You may also sanitize with alcohol from dispensers around the hospital or wash your hands frequently in our comfort rooms.
Setting your appointment is highly encouraged. We urge you to contact +63 2 8 9881000 to check the operating schedule of the unit or Doctor's clinic you will be visiting and book your appointment accordingly.
Do not forget any identification card and pertinent documents related to your visit.
Alternative Healthcare Delivery Solutions:
Also under TMC's New Normal, we have organized Teleconsult and Home Care services in case you cannot leave your home.
Teleconsultation Services
Our teleconsultation services are dedicated outpatient, multispecialty consultation with your TMC physician via live synchronous and audio and video (if necessary) -enabled technology. You may contact 8-988-1000, and press 5 to book your appointment.
TMC Services on Wheels
Our Lab on Wheels provides home-service collection of samples for routine testing at TMC clinical laboratory. You may pay in cash, credit, online or HMO LOA. We have also partnered with Watsons for delivery of outpatient medicines within Metro Manila. You may contact 8-988-1000 extension 6122 or 6421 to book an appointment.
Vaccine on Wheels
TMC's Vaccine On Wheels provides pre-vaccination teleconsultation and home- service administration of flu vaccine. Adults (19 years old above) who are due for flu vaccination may avail of this service, for as long as they are within serviceable area (Metro Manila). For inquiries and booking, please call the Wellness and Aesthetic Institute at tel. no. 8 988- 1000 ext. 6386/6579 from 8:00am and 5:00pm, Monday to Saturday (excluding holidays).
Pharmacy on Wheels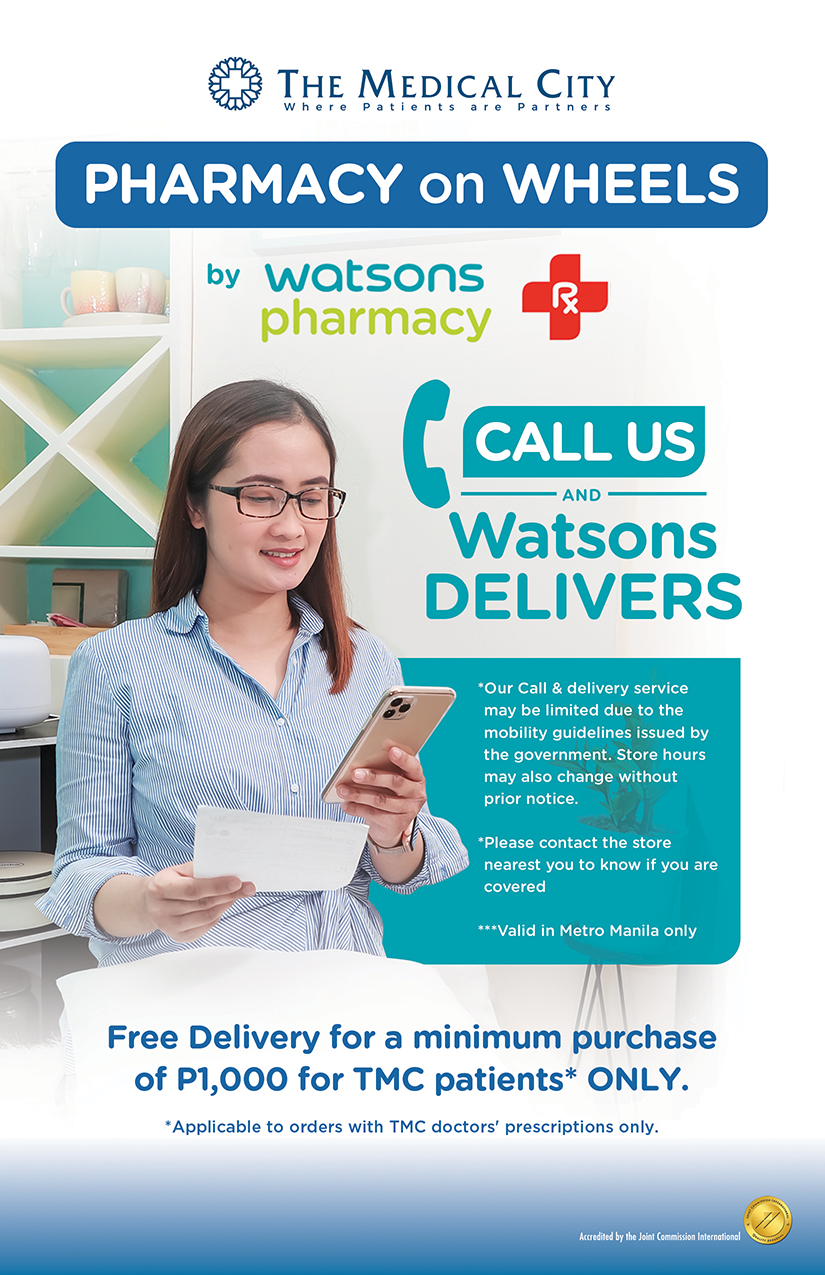 The Medical City Pharmacy on Wheels is a partnership with Watsons Personal Care Store (Phils.) Inc., bringing your outpatient medicine right at your doorstep. Free Delivery within Metro Manila for a minimum purchase of P1, 000 for TMC patients only and with TMC doctor's prescription. For orders below P1, 000, there will be a corresponding fee of P50. Please see list and contact details of participating Watsons store: https://themedicalcity.com/news/default/pharmacy-wheels
Online Medical Concierge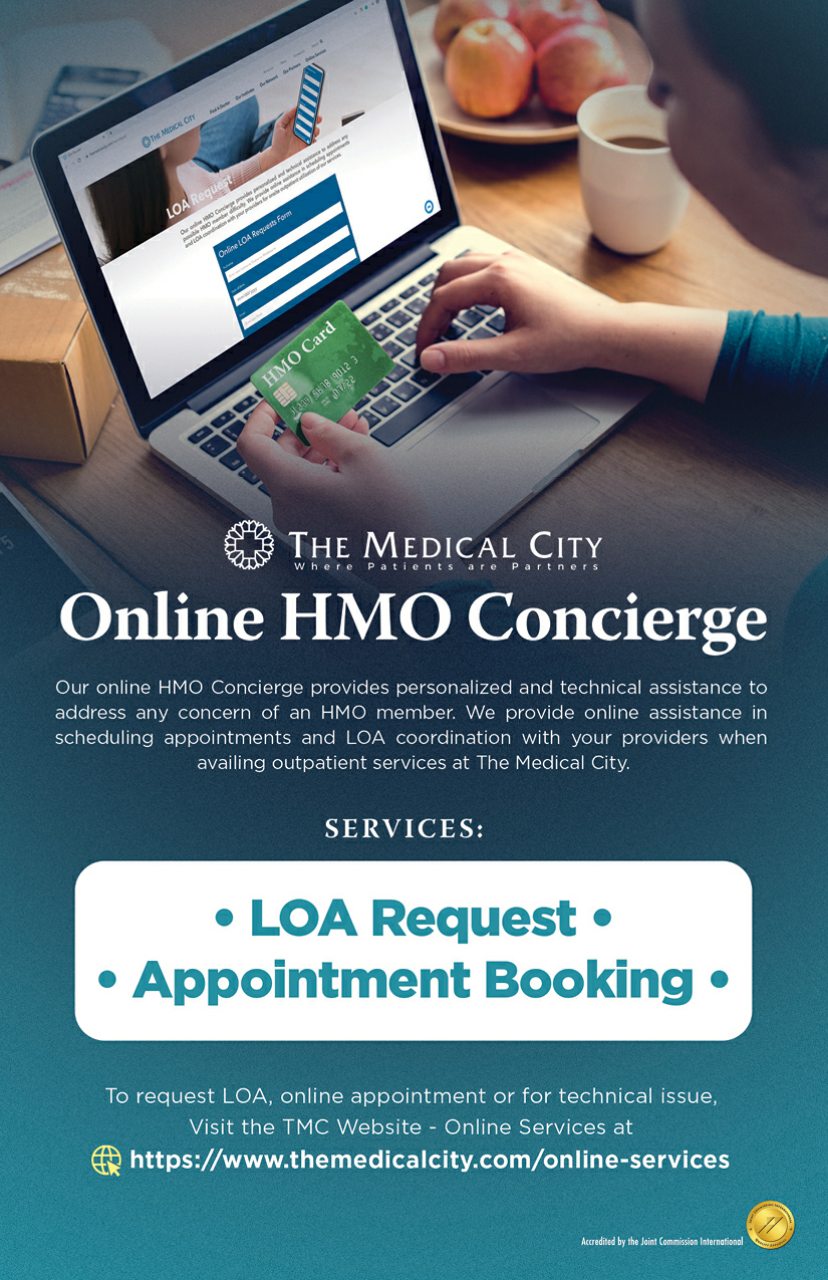 We provide personalized medical coordination such as synchronization of schedule and appointment with concerned medical parties (physicians, diagnostic units, etc.), as well as coordination with your insurance for timely issuance of payment guarantee. To request LOA, you may go to themedicalcity.com/loa-request
Note that this list may be updated regularly.
Moments like these remind us of our commitment to put you on center stage, because your health and wellness matter. On behalf of all of us at The Medical City, we're committed to being your partner and persevering together in all the days and years ahead.
We look forward to serving you again!