While the Enhanced Community Quarantine (ECQ) halted the face-to-face classroom setup, there is a need to put measures in place to ensure that learning does not stop for the youth while keeping them safe once the ECQ if lifted.
Regardless of the level of spread in the local community, every school must be prepared prior to the resumption of school activities. This will help school administrators and partners understand how they can help prevent the transmission of COVID-19 in the school setting.
Planning, Preparing, and Responding to COVID-19
1. Coordinate with local health officials
Get an update on you community's local COVID-19 data
Be aware of policies and practices implemented within your community that may affect the school's operations
Immediately inform the local health sector when a possible exposure occurs within the school
Assign a coordinator between your school and the local health office,
2. Communicate with staff, parents, and students
The communication to be provided to the school community must be aligned with the local health office and the school's emergency operations plan
Include messages to counter stigma and discrimination
Maintain the confidentiality of students or staff members as required by the Data Privacy Act
Provide information on new policies and practices implemented to prevent transmission in the school setting
3. Intensify cleaning and disinfecting efforts
Close off access to areas where suspected or confirmed COVID-19 patients stayed at and ensure proper ventilation within 24 hours prior to disinfection.
Cleaning staff should clean and disinfect areas focusing on high-touch surfaces such as doorknobs, light switches, phones, etc.
Use recommended disinfecting solution
Do not mix bleach and other cleaning or disinfecting products as this may cause fumes that are dangerous to breathe in
Ensure adequate supply to support cleaning and disinfecting practices
If possible, make touchless hand sanitizer dispensers available around the campus
4. Review continuity plans, including emergency operations plans
Make sure the plan includes the prevention of a wide variety of infectious diseases such as influenza, measles, etc
Include strategies to continue education and other related services
Emphasize everyday preventive measures
5. Develop information-sharing systems with partners as well as the parent community
6. Teach and ensure healthy hygiene practices
7. Have reminders available in various areas in the school to help prevent the spread of infection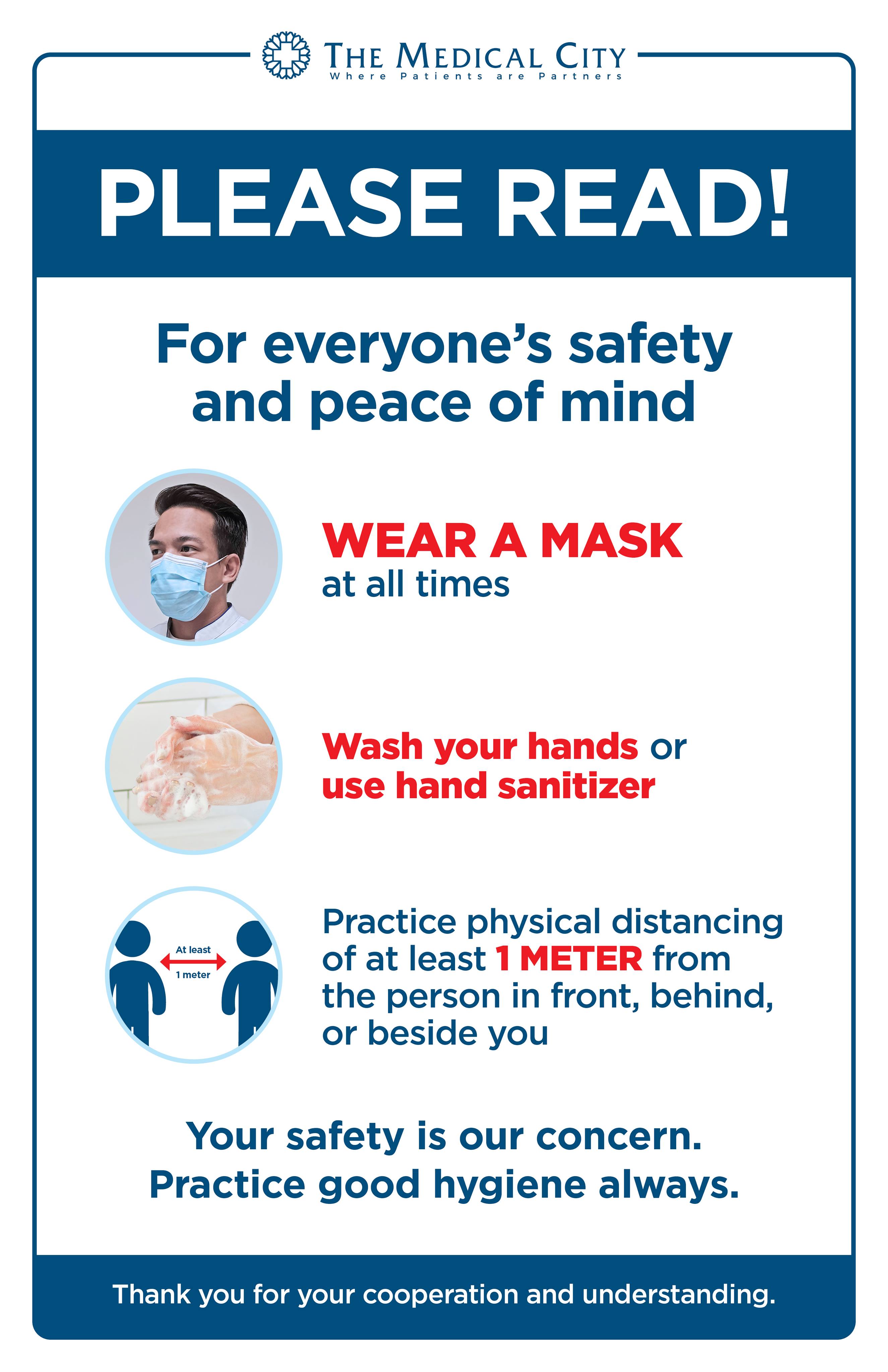 8. Implement multiple physical distancing strategies
Consider postponing non-critical gatherings and events including field trips
Cancel or modify classes where students will be in close contact with each other
Adjust the distance between desks to be 1 meter apart
Stagger arrival and/or dismissal times to avoid crowding of students
Limit or avoid cross-school transfers and programs
9. Monitor and plan for absenteeism of students and school staff
Determine the level of absenteeism that will disrupt operations and the continuity of providing education
Alert the local health unit for a significant increase in absenteeism especially when the cause is related to COVID-19 symptoms such as coughs, fever/chills, sore throat, and body pain
10. Require sick students and staff to stay home
11. Consider special needs of students who may be at higher risk of getting infected
Communicate with parents and determine how the students' needs can be met
Determine if and how to accommodate requests of parents who may have concerns regarding the students attending the school because of underlying medical conditions of the student or of those in their home
12. Should on-site school activities be resumed, plan for transportation assistance that can be offered to students
Ensuring Continuity of Education
As the ECQ is lifted, school must ensure that learning continues while implementing precautionary measures to promote safety in the school setting. These may be done by employing the following measures:
1. Consider e-learning as an option
Convert face-to-face learning activities to online teaching and learning tools as applicable
Train teachers to conduct e-learning activities
Determine how to triage technical concerns if IT support is limited or unavailable
Encourage parents/caregivers to conduct adult supervision during e-learning sessions for students below 18 years of age
Determine how to deal with students' potential lack of access to computers and internet at home
2. Determine the need for the following:
Waivers for on-site school interactions/activities for a particular number of students
Implementation of new school schedule that will help enforce physical distancing and minimize the risk of transmission in school
Ensuring Safety during Travel to School
Once school resumes, students and staff who do not have access to private transport would need to make use of public transportation. Their safety must be ensured during this time. The following measures can be done to achieve this:
1. Educate students and staff on how to prevent getting or spreading infection:
Practice proper hand hygiene. Tell students to wash their hands with soap and water before and after their commute. Should water and be unavailable, an alcohol-based hand sanitizer may be used as an alternative.
Wear a face mask. Require students to wear a face mask at all times – whether in school or during their commute. This will help ensure coughs and sneezes are properly covered to protect those around them while also ensuring they are protected.
Observe physical distancing. A distance of at least 1 meter must be maintained between each passenger during a commute to minimize the risk of infection.
2. Provide alternative transportation options
Consider carpooling for students and staff living near each other.
Partner with local transport groups, whether public or private, to provide transportation for the school community. This may augment any existing transportation capacity the school may have.
By making staff, parents, and students are well-informed of changesfor the new normal in the school setting, the safety of those within the school and local community will be ensured.
To learn more about making schooling work at the comfort of your home, stay updated for learning opportunities through our Institute of Pediatrics. For inquiries, you may contact the institute at 8-988-1000/-8-988-7000 Ext. 6322.
---
Reference:
Center for Disease Control and Prevention (CDC)
https://www.cdc.gov/coronavirus/2019-ncov/community/schools-childcare/index.html